Granite State Trade School is the only gas training school in New England approved and accepted in Maine, New Hampshire, and Vermont. Our Master Service Technician course provides the training required to truly be considered a specialist in working with, safely servicing, troubleshooting, and repairing natural gas and propane operated appliances and equipment. Customers look at technicians who have achieved their Master Service Technician status with confidence.
This course provides hands-on recognition for properly servicing and troubleshooting gas appliances as well as the proper startup and testing required by most manufacturers. We give instruction on the proper techniques for gas pressure testing, flame current measurement, and combustion testing.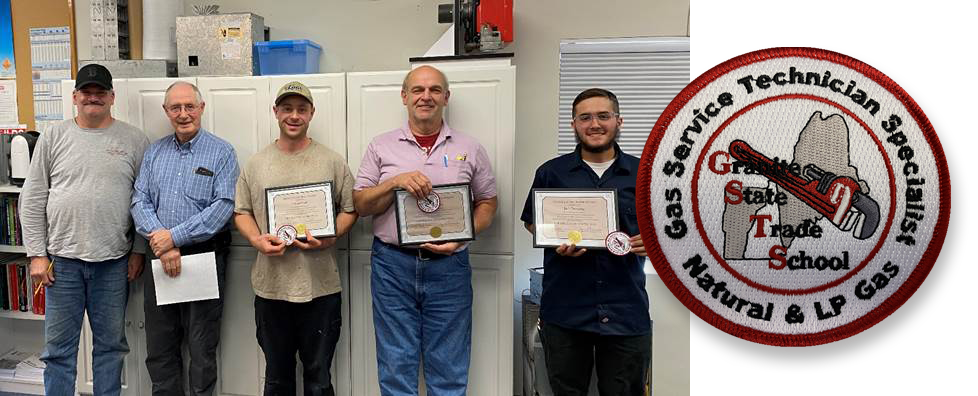 Granite State Trade School recently graduated their first class of Master Service Technician Specialists. The Master Service Technician patch reassures customers that the technician working on their equipment has specialized training and will provide the highest level of expertise in working on their natural gas and propane appliances.
This course is for natural and LP gas appliances and controls and introduction to some of the newer advanced controls and complex electronic ignition systems. These range from simple electronic ignition systems, such as those found in many appliances. They will include 120V & 24 V systems as well as milli-volt systems.
Get special pricing when you enroll in 3 courses at once (Gas Piping Installation, Gas Equipment Installation and one Gas Service course). Call for details.
We reserve the right to reschedule classes if required.